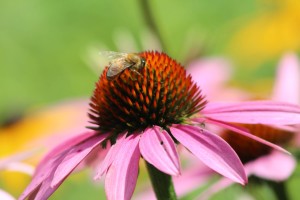 Bee Introduction Seminar with Glen Henderson at the Herb Crib Farm
Did you Know?
Honey is a good source of anti-oxidants. They play a big role in the prevention of cancer as well as heart disease.
According to the national honey institute, honey may be beneficial to athletes by reducing fatigue. Honey is a good source of fructose.
Honey may also be effective in the treatment of ulcers.
Honey may also be good for your skin. It has the ability to attract water. You can use it instead if alpha hydroxy masks because of its high content of acid. It is also safe for sensitive skin.
If you have allergies, honey can be beneficial. If you eat honey from your local area, it may prevent your seasonal allergies. Bees use pollen from local plants and eventually it ends up in your honey.
There is evidence that honey diluted in water will help you with stomachaches and dehydration.
Tuesday, July 5 at 1:30
Participants will see first hand how bees live within their hive
how honey is extracted from the frames
each participant will take home a beeswax candle and a jar of honey